Ways To Give Joyfully and Faithfully
There are many ways to share your financial resources with your parish.
Regular offertory envelopes for weekly donations are sent to all parishioners' homes monthly and include the Parish Stewardship Offering Envelope (you may also designate a portion of your offering toward reduction of the mortgage); Let in the Light (Mortgage Debt Envelope); the Special Offering For Parish Formation Program Envelope (Religious Education); and any designated special Diocesan collections.
For more information about the Offertory Envelopes and weekly offertory giving, please click here.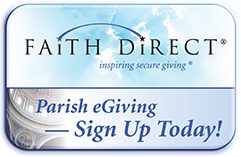 To allow our parishioners the ease of making their contributions to the parish convenient and secure, they can set up an account with Faith Direct via our website. Faith Direct is the leading eGiving program for Catholic churches across the country and allows contributions to be set up via automatic payment from your checking account or credit card.
Please click here to see how you could make a planned gift to our parish and choose the recurring option.
For more information, contact St. Catherine Administration Office,
at busmgr@stcatherineop.com or (904) 264-0577