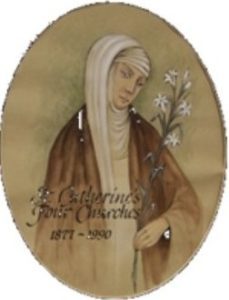 St. Catherine's presence to the Catholic community began more than a hundred years prior to its official dedication as a parish on February 24, 1970.
During the years of the Civil War, the tiny mission was ministered by Father Chambron, crossing the river from Mandarin, long before the Buckman Bridge was even a vision of the county planners.
In 1877, under then-Bishop John Moore, a small plot of land was deeded to the Diocese for construction of the first recorded Catholic Church in Orange Park. This small wooden white building designed to seat 54 was consecrated in 1877 under the name of St. Catherine and administered from its mother church, Immaculate Conception in Jacksonville. Its rustic steeple cross has been preserved in what is now Rooney Hall.
The mission church went through cycles based on the number of Catholics in the area and was almost dismantled in 1900. However, the founding of Moosehaven in 1903 rekindled the need and Catholic services resumed once or twice a month with priests again from Immaculate Conception Parish in Jacksonville serving the mission.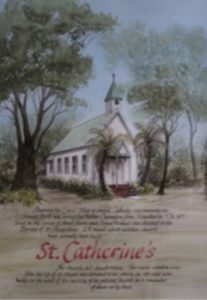 In 1930, a renovation of the wooden mission chapel was undertaken with the installation of gaslighting, a wood stove, and a portable organ and Father James McInerney was assigned to Sacred Heart Parish in Green Cove Springs as well as to St. Catherine's. "Orange Park is not growing very fast, I must say," Father Joseph Corde wrote in 1963, but change was imminent with the construction of the Buckman Bridge which would transform Orange Park into a veritable boomtown.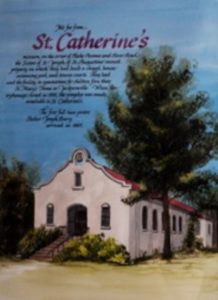 The Sisters of St. Joseph owned land at the corner of River Road and Blake Avenue on which they had a small chapel. This property was no longer needed by the Sisters upon the closing of their orphanage of St. Mary's in Jacksonville. This land and chapel were made available to St. Catherine's. As a mission, it became the responsibility of Father Spellman and later Father Corde and Father Diego Conesa. In 1967, the congregation welcomes its first full-time pastor, Father Joseph Barry. By 1970, this chapel could no longer accommodate the rapidly growing community and on February 24th Bishop Paul F. Tanner elevated St. Catherine's to parish status and assigned Father Edward Rooney its first pastor. Father Rooney celebrated Mass in the chapel and again at S. Bryan Jennings Elementary School. The new church, at the current address, was dedicated and the first Mass celebrated on Ascension Thursday, 1971. The old chapel, long-abandoned would carefully be moved down Blanding Blvd. to Moody Road where it became home to the Orange Park Community Theatre, still operating today.
Within ten years, this building would be re-named Rooney Hall and would sit in the shadow of a new, far larger, modern, fan-shaped church with construction presided over by his successor, Msgr. R. Joseph James who served as pastor until 1983. The new St. Catherine's was dedicated by Bishop John J. Snyder in June, 1981.
The continued growth and needs of the community met Msgr. Vincent J. Haut who was assigned as the new pastor of St. Catherine's in 1983. During his tenure the Formation Center was constructed in 1986, the Parish Hall remodeled in 1989, the Parish Office built-in 1994, and additions added to Rooney Hall as well. Growth continued and construction of a new, even larger church to accommodate 1200 parishioners began in 2001.
The Parish Hall was re-named Haut Hall when Msgr. Haut was re-assigned in 2002. Father James R. Boddie, Jr., became St. Catherine's pastor that same year.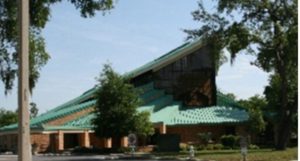 The beautiful, statuesque Bell Tower, located just east of the main church, was a long-time dream of many of St. Catherine's parishioners, especially the Filipino devotees. With the blessing of the pastor, Father James R. Boddie, Jr. and the grace of God, the tower was completed and dedicated on April 27, 2008, by Bishop Victor Galeone. The project was spearheaded by a group of Filipino-Americans of St. Catherine's Parish.
During his twelve years as a pastor, Father Boddie also approved the construction of a beautiful Marian Garden to be designed and built adjacent to the Formation Center via parishioner donations. This beautiful garden offers a peaceful respite to the normal busy grounds at St. Catherine's. The tile pavers offer a "walking rosary" while the Stations of the Cross are highlighted by a life-size depiction of the crucifixion. This beautiful Marian Garden was dedicated on Pentecost Sunday, May 23, 2010. For more information on the Marian Garden, click here.
In February 2014 Father Boddie was assigned to Christ the King Parish in Jacksonville and Father Ignatius Plathanam, CMI was named Pastor of St. Catherine's.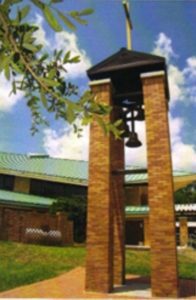 Father Ignatius brings a quick wit and the ability to oversee many new ideas and projects. When asked about his goals for the St. Catherine's "family," he stated his vision for the Parish is to help all his "children" to live the Gospel as a lifestyle, not just for Sundays or a few days, but every day, every year, at work, at home, or on vacation. He wishes to provide an environment for all to support each other in doing that.
He firmly believes in building Small Christian Communities that are strong in the Catholic faith, as advocated by U.S. Bishops. Father Ignatius states, "We as parishioners can take this message to our neighborhoods in the true spirit of evangelization and welcome as many people as we can to our wonderful, joyful faith experience. At the same time, I will encourage and continue all of the wonderful things working well in the Parish. I trust in God's grace working through us in the Holy Spirit and the cooperation of all of you for the success of my ministry here. Let us all pray that we as a Parish family grow together in Faith proclaiming the Gospel of the Lord by our lives of faith, love, witness, and service."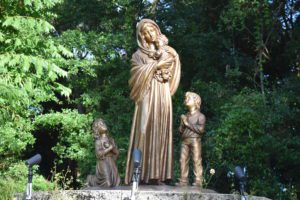 Bishop Felipe Estévez installed Father Ignatius as Pastor of St. Catherine's on August 17, 2014.
And so, another chapter of St. Catherine's history continues. Our parish stands as a landmark in Orange Park, a vibrant faith family for its parishioners, and an active participant in parish and community outreach programs. St. Catherine's continues to be the face of the Catholic Church in Orange Park, Florida.