May 8, 2020 at 11:59pm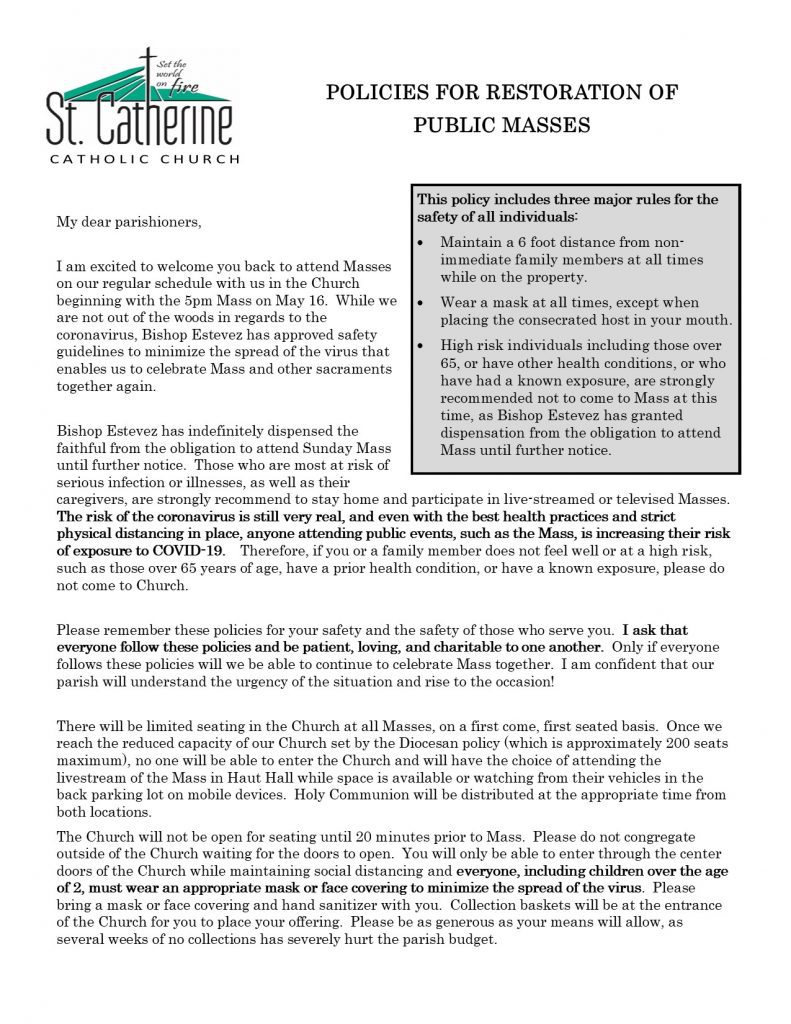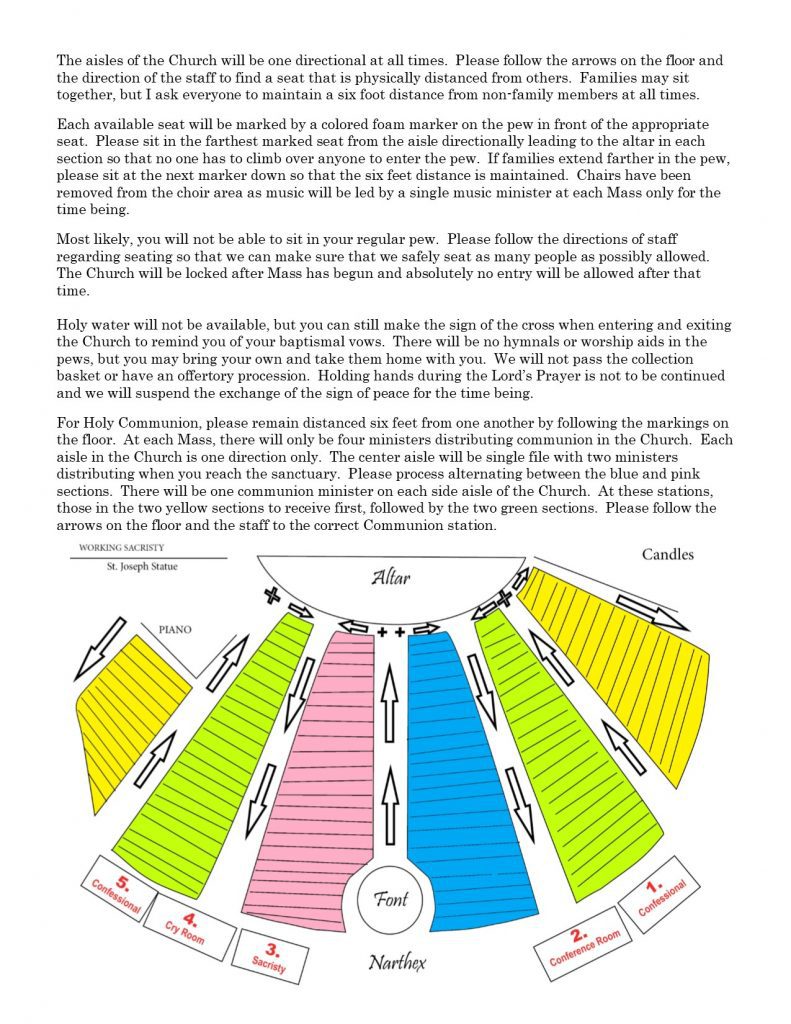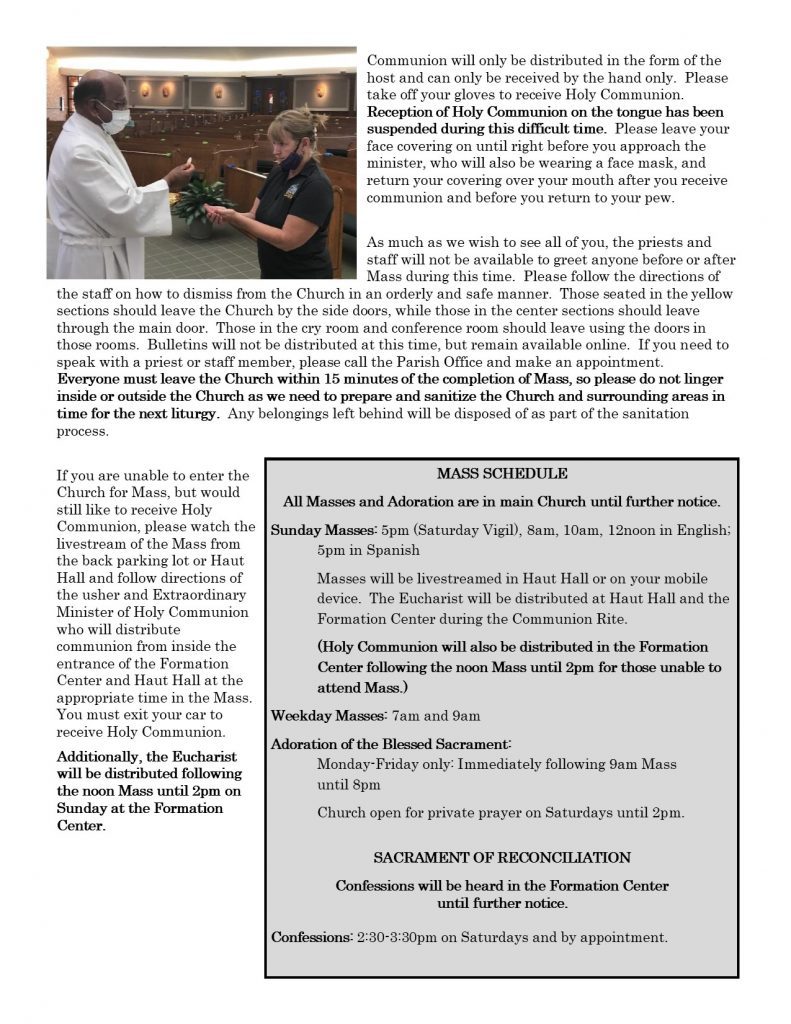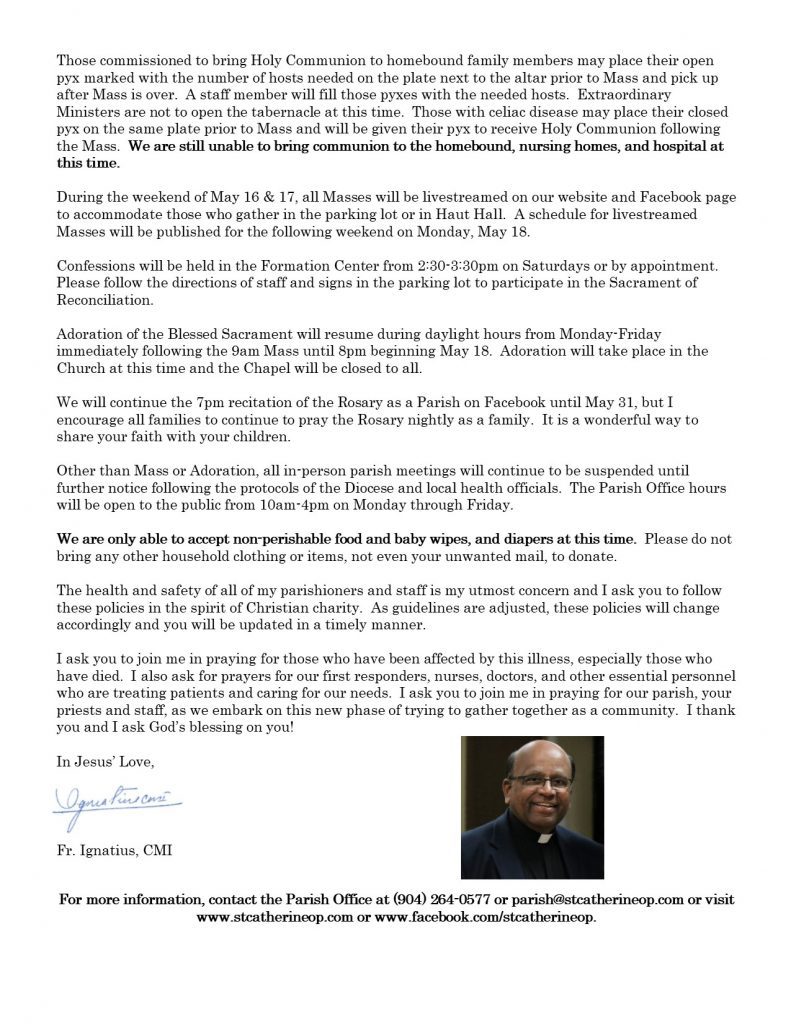 April 27, 2020 at 5:00pm
I want to wish you a blessed Feast of St. Catherine this Wednesday, April 29. It was my great desire to have us joined together around the altar for a beautiful celebration of the Eucharist and large reception honoring our patron, St. Catherine, during our 50th Jubilee celebration.
Of course, we are unable to do so because of our current situation. However even with all of us physically distanced from one another, our parish is still strong and united together spiritually, which is a cause for celebration, while we are still mindful of those suffering the physical, emotional, and financial effects of the coronavirus pandemic.
I am speaking with you today to announce several virtual events we have planned for our feast day, so that we may join together in a unique way.

At our usual 9am Mass, we will celebrate our feast in a special way. In addition to our Mass intention, I will be praying for you, my dear parishioners, and your families, that all of us may grow spiritually during this time and become more like St. Catherine to be bolder witnesses of the Gospel. During this Mass, I will be lifting up in prayer all the various populations of our parish in a particular way. I have asked Jim Hughes to provide music for this solemn celebration and I hope that all of you will join us.

On Wednesday, the Church will be open for private personal prayer from 10am-4:30pm. In the spirit of St. Catherine's charity of quietly feeding the hungry, I would also ask you to consider donating canned and other non-perishable food items, including baby food and diapers, to help support our St. Vincent DePaul Society, Clothes Closet, and local pregnancy center by dropping off your contributions in the Narthex when you come to pray on Wednesday.

I want to thank all of the families who have led the Rosary on our Facebook page each night from their homes and all those who have joined us in prayer. This rosary is a way to show that our parish is bigger than our Church building and that we are truly the beautiful face of the Catholic Church throughout all of Orange Park and surrounding areas.
In honor of St. Catherine, Fr. Bob and I will lead the Rosary this Wednesday night at 7pm on our Facebook page and I ask all families of the parish to join in praying for our community, nation, and world, from their own homes, as we ask God to bring an end to the coronavirus. We will continue to join together for our nightly rosary until the end of this crisis.

I have asked Vincent Reilly, our Director of Faith Formation, to provide an interesting and relevant presentation on the life and spirituality of St. Catherine of Siena, to increase our knowledge of this unique woman who had such a passion for Jesus and to inspire us to imitate her love of God and service of neighbor.
He will offer the presentation twice on Wednesday, once at 5pm and again at 7:30pm online in a webinar format with opportunity for questions and answers. I personally invite you to register online by clicking here. Space is limited to 150 people per session, so sign up now.
Additionally, Jim Hughes, our Director of Music, and our talented choir has created a virtual choir video of Psalm 8: How Wonderful Your Name. It includes over 32 singers and instrumentalists. We will have a virtual premiere of the video on Wednesday night at 6:30pm on our website, YouTube, and Facebook pages.
I hope all of these things make our feast day special and unique in order to bring the spirit of St. Catherine into your home.
At this time of our feast day, I want to sincerely thank all of the generous parishioners who have maintained and increased their financial contributions to the parish. Your support has been invaluable to maintain our utilities and necessary expenses. Thank you to all those who heeded my call in my last video address and I encourage others to respond generously as well. When all of us join together, we become stronger and are able to carry out the mission of the Gospel that St. Catherine embraced throughout her life.

I am so humbled and blessed to be your pastor. This parish has always responded to every need that arises and now is no different. Please keep your support coming.

I also want to thank all of you who have sent notes of thanks, well wishes, and prayers. I cherish your expressions of closeness to your priests, staff, and parish. You have encouraged us so much over these last few weeks and we hope to be able to continue to encourage you as we face these struggles associated with the coronavirus.

I again want to express my closeness to those struggling physically, emotionally, or financially at this time and I want to assure you of our special prayers and concern.

As we are celebrating our Feast of St. Catherine this Jubilee year, please know of our prayers and how much we miss seeing all of you. May God bless you and may the intercession of St. Catherine, disciple of our Lord, caretaker of the sick and woman of charity, keep you safe and healthy this day and throughout coming year.

In Jesus' Love,
Fr. Ignatius, CMI
Pastor
March 26, 2020 at 5:00pm
My dear parishioners,
It has been almost two weeks since we were last together and I wanted to reach out to you and express my concern for you.
Yesterday, I was moved by the images of Pope Francis addressing an empty St. Peter's Square and blessing the city of Rome and the entire world with Jesus in the Blessed Sacrament. The image hit me close to home.
For almost two weeks, Fr. Bob and I have been celebrating Mass without our people in our chapel, which has left me feeling the same emptiness the Pope must have felt looking out on the Square. I miss seeing all of you and long for the day when we can gather physically again in our Church.
However, I am also filled with great hope. I am grateful for all of you have joined us while we are livestreaming the Mass from the chapel and the Rosary from various parishioners' homes. It has been a blessing to see so many worship with us, particularly parishioners who have moved away from the area.
I am also grateful for the many volunteers from our Parish Neighborhood Communities who have made over 1000 phone calls to our more senior parishioners. While we cannot gather in our church building, St. Catherine is still active as Church because we, the people are the Church, and St. Catherine's has once again demonstrated that we are a community of communities joined together with our Lord and caring for one another.
The physical emptiness of our Church is healed by the spiritual fullness I have experienced through your prayers, acts of charity, and the love I have felt from all of you in your own ways. I am also comforted, as I know you are, by the Lord's promise to be close to us, regardless of our physical distance from one another.
As a sign of the Lord's closeness, Fr. Bob and I will hold Adoration from the Rectory Chapel window on Tuesday and Thursday evenings from 8-9pm for all those who are able to drive up, park, and remain in their cars while we spend time together with Jesus. I request that you keep social distancing by keeping your windows up or parked at a safe distance from other cars. We will also livestream to Facebook for those who cannot travel here.
I am grateful for the technology that allows us to reach all of you at this time and I encourage you to continue to participate in our Sunday Mass at 10am, our weekday Masses at 9am, and our evening Rosary at 7pm through our livestreaming. As we are doing all of this, I encourage you to transform you homes into a Church, filled with songs, prayers, and Bible reading.
We have all come together in this crisis, and the community of St. Catherine has always been and will continue to be with you through this situation and beyond; however, your weekly collection remains absolutely essential to our parish operations. The financial stress of several weeks of no offertory collections will put the physical and staffing needs of the parish in serious jeopardy. If you look at this Sunday's bulletin, you will see that our Sunday offertory has fallen off dramatically – 84 percent – in the last three weeks from $17,500 to $2,800.
Thank you to all who have dropped off your envelopes, sent them through the mail, placed them in the poor box, or have contributed through Faith Direct or PayPal. We are eternally grateful for your support.
If you have not already done so, please help support your parish by visiting the front page of our website www.stcatherineop.com, and donating safely by credit or debit card, PayPal, or using Faith Direct to give directly from your checking account. You can also request your bank to send an electronic check to the parish. Any support you can give will help us continue our proclamation of the Gospel message.
We will continue to find creative ways of reaching out to you and your family with the powerful and comforting message of God's love for each us and Jesus' closeness to us in this time of great difficulty.
Please know of our continued prayers for each of you and your family. Thank you, God bless you, stay safe, and keep the faith.
In Jesus Love,
Fr. Ignatius
March 17, 2020 at 12:30pm
My dear parishioners:
It is with a heavy heart that we must inform you that under the present national emergency we are taking measures to do our part in prevention of the spread of the COVID-19 virus as directed by the Bishop for the entire Diocese.
As you must know by now, all public masses and Perpetual Adoration have been suspended.
Stations of the Cross and Souper Suppers are cancelled through March.
Communion to the sick as well as Masses have been cancelled at all nursing homes and assisted living facilities.
Daily Mass will be streamed live on St. Catherine's Facebook page at 9 a.m. and will also be posted on our website shortly after the Mass.
Sunday Mass will be streamed live on St. Catherine's Facebook page at 10 a.m. in English, and 12 noon in Spanish, and also posted on our website shortly after the Mass. No Masses will be open to the public.
Fr. Bob will be posting reflections on the daily Gospel for your meditation.
The main church will be open for PRIVATE prayer Monday-Saturday from 10 a.m. to 4:30 p.m., and on Sundays from 2pm to 6 p.m.
Please no organized groups in church in order to follow the guidelines of no more than ten people per space, and maintaining safe distance of six ft.
Confessions will be available on Saturday from 3 p.m. to 4 p.m. in the conference room of the church and in the cry room. Again, we ask you to remain six feet apart, and will have tape on the floor to help maintain that space. All confessions will be face to face maintaining a safe distance.
The Administration office will be closed to the public, as well as the SVDP office. Staff will be limited.
The Lenten Parish Mission and Penance Service have been cancelled.
With Holy Week approaching we are praying that we will be able to resume our regular schedule, but unfortunately at this time it is not a certainty. We will keep you informed and keep you in prayer during this unforeseen crisis.
Please continue to pray for all affected by the Coronavirus and for an end to this infections disease.
In Jesus Love,
Fr. Ignatius
If you cannot follow the Mass on Facebook or online, I encourage you to read the Gospel, pray with your families and join yourself to the Eucharist, the source and summit of our Catholic faith, by making an act of spiritual communion such as the following:
An Act of Spiritual Communion
My Jesus, I believe that You are present in the Most Holy Sacrament. I love you above all things, and I desire to receive you into my soul. Since I cannot at this moment receive you sacramentally, come at least spiritually into my heart. I embrace You as if You were already there and unite myself wholly to You. Never permit me to be separated from You. Amen.